At NAB for a couple days. The sales rep for Lasergraphics is now selling the Cinetech film cleaner. It's an interesting machine: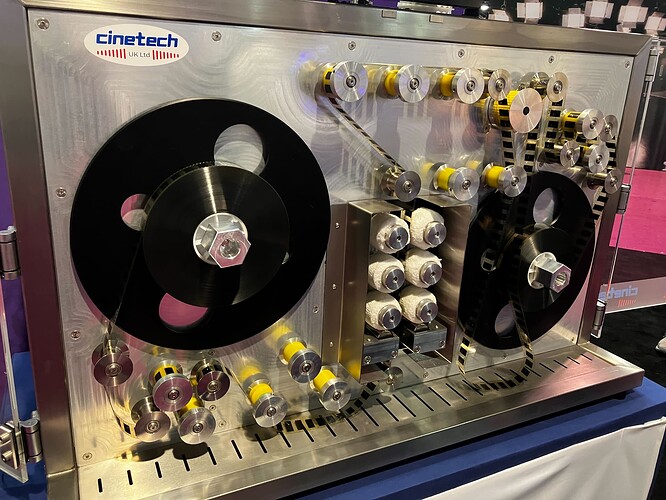 (In this photo it's not fully threaded because he was showing me something else. you can see the actual threading on their site: https://www.cinetech.uk/
There are a lot of rollers because they aren't using a heated dryer box like the Lipsner-Smith cleaners use, so there needs to be more physical space for the cleaning solvent (Isopar-G: Naptha) to dry. They are showing it with a 16mm/35mm configuration, and this machine could do 8mm, but I suggested to them that they might consider an 8mm only model that's much smaller. Does that seem like something people would be interested in, and at what price (bearing in mind the full size version is around $60k US).
What makes this different from the Lipsner-Smith is that it has a very small solvent reservoir (only a couple ounces), because it doesn't use much in a given run. There is an option for a larger reservoir if you are doing a bunch of cleaning at once. There are no pumps or hoses, the solvent is gravity fed. There is no drying box, it dries inside the unit before it reaches the takeup reel. This machine runs a bit slower as a result. It is fully enclosed and has a 4" vent duct port on the top.
The controls are pretty interesting too, because you can control the lateral position of the buffer wheels, in order to concentrate cleaning on one side of the film or another. That is, if you know the emulsion is in a more delicate state, you could basically just clean the base side by adjusting the roller position.
Tension is handled with a simple 4-roller tension wheel assembly, and is user-adjustable. Inside everything is stepper based, and very simple, unlike the much more complex Lipsner-Smith machines. I like this a lot and we're considering getting one.